Best Fireproof Gun Safe In 2022 – Tested By Experts
As far as disasters go, a fire breaking out in your home or office might be the worst one. On one side, you have important documents or valuables that you want to save. But on the other side, you also need to save yourself, running out of the building as soon as possible.
What do you do? Do you save yourself, or do you protect your valuables?
The answer always is to save yourself first. But what if I told you that you do not need to sacrifice your valuables in the process? Gun owners should already know what I am talking about; a fireproof gun safe.
Going with the best fireproof gun safe is the best way to protect your valuables, firearms, and important documents against fire damage without you being present. So while you run out and save yourself, your gun safe will keep your items protected until the fire services get here.
In this article, I will give you a comprehensive breakdown of some of the top fireproof gun safes that I have used over the years and will help you figure out which one is a better fit for you. So without further delay, let us get started.
Do Fireproof Gun Safes Really Work?
Let me first address the elephant in the room – do fireproof safes really work? There are many misconceptions around them, after all.
The truth is, no safe in the world will give you indefinite protection against fire and smoke. If you leave it burning in a blaze, eventually, fire and smoke will get through and damage your firearms or other essential items you keep inside it.
However, with fireproof safes, you will have a bit of a grace period. These safes always come with a fire rating which shows you how long they can survive at a specific temperature.
For example, if you buy a 2 hour fireproof gun safe rated at 2400 degrees Fahrenheit, the safe will be able to protect your belongings for up to 2 hours at that temperature. After that, fire will burn through the safe damaging its interior.
The advantage of a fireproof gun safe is that, at the initial moment of fire, you can run out of your house or office and call emergency services. And if you are lucky, the fire service will come over and handle the fire before it gets through the safe.
That is why investing in a fireproof safe is a good idea if you want to protect important documents, firearms, or valuables.
| | | |
| --- | --- | --- |
| | | |
| | | |
| | | |
| | | |
| | | |
| | | |
| | | |
| | | |
| | | |
| | | |
Top 10 Best Fireproof Gun Safe for Guns & Documents
If you are planning to buy a new fireproof gun safe to keep your essential items protected against damage, you should never go cheap. But that does not mean you cannot shop smart, right?
In the following section, I will talk about some of the finest options on the market at different price ranges to help you figure out which one gives you more value for your investment.
1. SentrySafe EF4738E Fireproof Waterproof Safe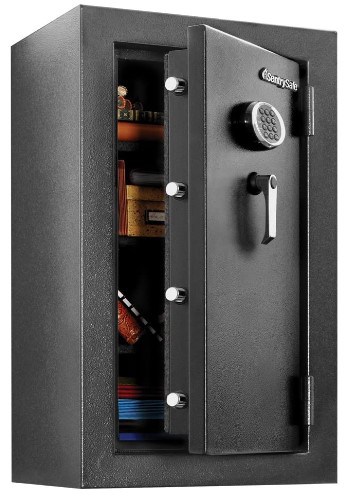 SentrySafe has always been one of my favorite brands whenever I am looking to invest in a new safe for my guns and essential documents. If you want complete protection against fire and water, the EF4738E by the brand is worth a look. Sure, it is a bit pricy, but still, it is one of the safest options out there.
This gun safe features a strong alloy steel construction and has an electronic digital lock for its primary locking mechanism. Further enhancing its security, the unit features five live locking bolts and four deadbolts. So it's a safe bet that no one is getting through its security without proper authorization.
Along with its digital lock, the unit also comes with a backup set of keys to override it. In case of fire, if the electronic mechanism of the unit burns out or you simply forgot to replace the batteries, you can use your master keys to access its inner contents.
The fire defense of the unit is pretty great, allowing it to survive up to 30 minutes at temperatures of up to 1400 degrees Fahrenheit. In addition, it can also survive flooding and can hold up on its own for up to 72 hours if the water level gets 12 inches deep.
One thing that I really love about the gun safe is its interior spacing. It comes with a fully carpeted interior and has three shelves that let you store anything from your firearms, important documents, or keepsakes without damaging them. However, if you are planning to store long guns like rifles or shotguns, it might not be the best choice.
The electronic mechanism of the fireproof safe is powered by two AA batteries. For long-lasting performance, I would suggest going with branded, high-end alkaline batteries. It comes with bolt-down hardware to securely mount to the floor in your office or home. So the chance of someone running off with it is next to nothing.
Highlighted Features:
Comes with an electronic keypad
Fire rating of 30 minutes at 1400 degrees Fahrenheit
Thick door with five locking bolts and four deadbolts
Spacious interior design
2. Sports Afield SA7240P Preserve (60-Gun) Fire/Waterpoof Safe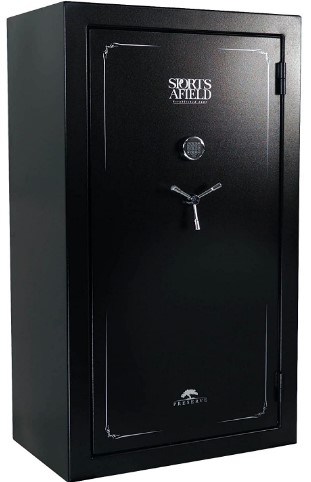 While the SentrySafe that I just talked about is a fantastic high-end gun safe, it cannot handle long guns all that well. So if you own a couple of rifles and looking for a good place to store them, the Sports Afield SA7240P Preserve might be a better option for you.
This is truly one of the best fireproof rifle safe, featuring fantastic construction quality and security. It comes with a Triple seal technology protecting your valuable items against fire, smoke, and water damage. The highlight of this technology is a pry-resistant door, uni-weld body, strategically placed hard plates, and ten locking bolts of 1.5 inches.
The primary locking mechanism of the unit is a digital e-lock that lets you set a combination code which you can later use to open up the door. It has a 3-spoke chrome handle that cannot be pried open because there are no grooves to get leverage against it.
This gun safe has a fire rating of 40 minutes at 1200 degrees Fahrenheit and can handle water submersion of up to 2 feet for seven days. Needless to say, it means whatever you put inside it will be fully protected against any sort of disaster.
However, the best part of the unit is not its security but rather its interior design. The inner shelves are fully removable, so you can adjust them according to your needs. It can safely store up to 8 long guns, and the plethora of shelves on the inside can handle your important objects without any complaints.
Furthermore, the door comes with door organizers to store your small items or ammunition without taking up too much space. And as a bonus, the interior is fully carpeted to protect your firearms against scratches.
It operates via alkaline batteries, and a fresh set should last you at least a year. You also get a backup set of keys to access the interior if you cannot use the electronic features. As far as fire and waterproof gun safe go, it is a pretty good one to consider as your next investment.
Highlighted Features:
Excellent build quality
Comes with ten locking bolts
Impressive water-resistant features
Can handle up to 8 long guns
3. STEELWATER New and Improved Heavy Duty 20 Long Gun Fireproof Safe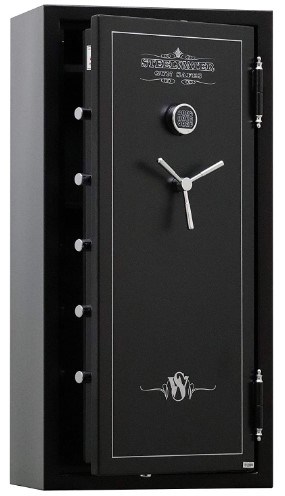 Steelwater is a brand that I often turn to whenever I need to invest in a new gun safe. For fireproof models, the AMSW592818 by them is a no-brainer. It boasts an impressive design that is not only effective at keeping your valuables safe but also looks quite stylish.
It comes with a 12-gauge steel construction featuring a thick 5-inch door made of double layers of fireboard for maximum protection against welding, drilling, or prying. The unit has ten 1.5 inches of steel locking bolts to ensure full protection against any sort of tampering attempts.
In addition, the electronic lock in the unit is EMP proof. So cracking the safe is impossible even by a tech-savvy burglar. And even if the lock is removed during a burglary, the spring-loaded locking bolts automatically lock down the gun safe until you unlock it using your master keys.
It is a 1 hour fireproof gun safe that can handle temperatures of up to 1875 degrees Fahrenheit. Needless to say, its fire resistance is a lot higher than a lot of its competitors at this price range. So even if a fire breaks out, you can rest easy knowing that the valuables stored inside will be fully protected.
The interior design of the fireproof safe is also pretty impressive. You can store up to 20 long guns inside it, and the shelves can be rearranged to suit your needs. It even comes with door organizers where you can store ammunition and handguns if needed.
Furthermore, the interior comes with thick padding that ensures your belongings remain scratch-free. The interior also has automatic LED lighting that activates the moment you open up the door. So even if the power goes out in the building, you will be able to see the contents inside the safe after you open it up.
With your purchase, you also get a dry 200-gram silica pack that serves as a dehumidifier inside the gun safe. This is not a massive deal, but it does show how much the brand cares about the safety of your belongings. Overall this is a fantastic gun safe that will give you your money's worth.
Highlighted Features:
1 hour fireproof rating at 1875 degrees Fahrenheit
Interior LED lighting gives you better visibility
Complete protection against welding, prying, or drilling attempts
EMP-proof digital locking mechanism
4. Barska New Fireproof Fire Vault Rifle Gun Safe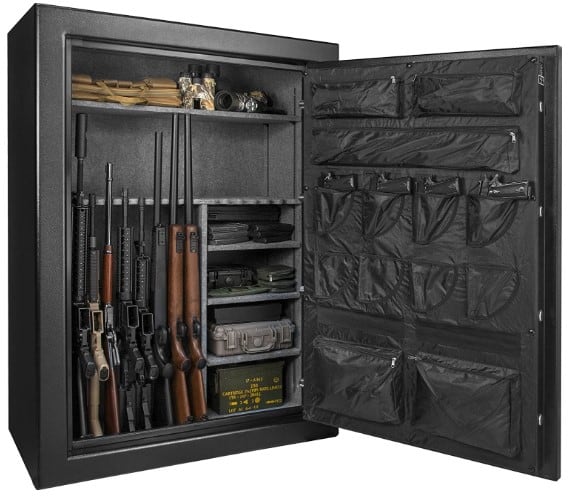 I know I am going with a pricy model, but when it comes to the safety of your belongings, going cheap is never a good idea. The Barska New Fireproof Fire Vault Gun Safe is a premium unit that will make sure you are getting exactly what you are paying for.
The unit boasts an impressive alloy steel construction, with a high-density door that prevents any sort of break-in attempts. It is fitted with six solid-steel locking bolts that ensure maximum security. Once the door closes, nobody is getting into it without proper authorization.
It has a quick-entry electronic keypad that lets you access the contents of the gun safe easily without having to fiddle around with the keys. Sure, you also get a set of spare keys for when the battery runs out or if the electronics malfunction. But the keypad makes it a lot more effortless to open it up.
The fireproof safe also has a silent feature that lets you mute the beeps that you hear when you unlock it. It might not seem like a big feature, but if you are trying to access your weapon silently in an emergency situation, this feature comes in handy big time.
The gun safe has a fire rating of one hour for temperatures of up to 1200 degrees Fahrenheit. So even if a fire does break out in your office or home, the contents of the safe should be well-protected until the fire service comes to the rescue. And with the California Department of Justice's seal of approval, you have no reason to doubt it.
Its interior design is also quite spacious, featuring removable shelves and a built-in door organizer. If you remove the shelves, you can store up to 45 long guns on the gun rack inside it without any issues. Personally, I keep three shelves on the side to store my important items and cash.
The door organizer pouches are also sturdy enough to handle a single handgun. You can even store ammunition or passports on it if you want. The electronic features of the unit run on a single 9-volt battery that comes included with your purchase.
In addition, you also get the necessary mounting hardware to bolt it down securely to the floor. But even if you don't bolt it down, the weight of the unit is enough to dissuade anyone from trying to pick it up and run off with it.
Highlighted Features:
Fireproof rating of 1 hour at 1200 degrees Fahrenheit
Six solid steel locking deadbolts
Runs on 9-volt batteries
It can store up to 45 long guns
5. Fortress Gun Fireproof Safe with Combination Lock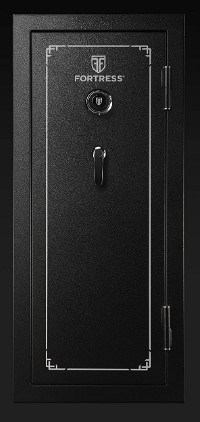 The Fortress Gun Fireproof Safe is another great choice if you are looking for a long-term investment. Sure, it has a few quirks here and there. But when it comes to major security features, you will find nothing worth complaining about. On the plus side, it comes at quite a reasonable price.
This gun safe is made using high-quality alloy steel that features external hinges that let you access the interior easily as it pops open a full 180 degrees. It comes with three 1-inch locking bolts, two deadbolts, and one patented notched bolt, ensuring complete protection against any sort of tampering.
The most attractive element of this fireproof safe, if you ask me, is its use of an old-school combination lock. This means you do not need to worry about any external power or batteries. Its fully mechanical design gives you complete security without requiring any power.
While there are fireproof safes with better fire ratings out there, its 30 minutes of fire rating at up to 1200 degrees Fahrenheit is not to be underestimated. It is capable of protecting your valuables quite well in case of a fire breakout until emergency services come and do their job.
I also love the interior spacing in the unit. It features a freestanding design and has enough shelves inside to handle all your small items. There is also a gun rack to store your long guns. In total, you should be able to store up to 24 guns inside the safe, along with a handful of valuables and keepsakes, without any issues.
The interior is also lined with padding to make sure the items that you put inside it remain undamaged. However, it does not come with any door organizers, which can be a bit of a letdown for those who want to store a lot of items inside it. Still, for the price, you cannot really complain much.
Since it is mechanical, you do not need to worry about any power hookup. The gun safe comes with all the necessary mounting hardware you would need to set it up. It also has an excellent warranty period ensuring your investment is protected in case you end up with a faulty unit.
Highlighted Features:
Comes with a mechanical combination lock
Can handle up to 24 guns
Fire rating of 30 minutes at 1200 degrees Fahrenheit
Excellent warranty services
6. Blue Dot Safes Second Amendment Fire-Resistant Gun Safe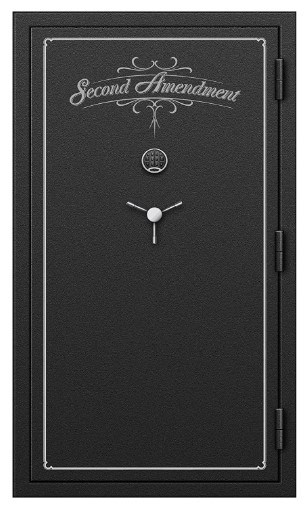 The Second Amendment Gun Safe by the brand Blue Dot does not look all that impressive at first glance. It looks like a standard full-sized gun safe, and I would forgive you if you overlooked this one. However, if you give it a chance, you will see that it is one of the best fireproof long gun safe for the money.
With an exterior made of solid steel, this gun safe is built to last a good long while. The unit boasts a 5/16 inches thick proprietary drill-resistant hard plate to protect it against any drilling attempts. And the 12GA steel finished with a scratch-resistant black powder coat on the body and door protects it against any sort of rust or corrosion.
The gun safe is further enforced with four fixed deadbolts and six live locking bolts to ensure nothing gets in or out without your authorization. It also features a spring-loaded relocking device that gets automatically activated in case of a punching attack for seamless protection.
For its primary locking mechanism, the gun safe features an electronic keypad. You can quickly set up an access code that you can use to open up the safe easily. But if you want, you can also use the backup keys to gain access to the inside of the safe.
The fire rating in the unit is also pretty decent, giving you 1 hour of protection against a temperature of up to 1700 degrees Fahrenheit. It features an intumescent expandable heat seal that protects the interior of the gun safe against smoke and heat in the event of a fire.
As for the interior, you get one full shelf, three half shelves, one full gun rack, and a half gun rack. You should be able to store up to 24 guns inside the safe along with your other important belongings without any hassle. It even has a couple of door pouches to store ammunition and other small key items.
The gun safe also features pre-drilled anchor holes that make it easy to mount it to the floor for better safety. To use the electronic features; you need to use high-quality alkaline batteries. The good news here is that a single set of batteries should last you a year or two easily.
Highlighted Features:
Spacious interior with plenty of shelves
Easy to install thanks to pre-drilled anchor holes
Fire rating of 1 hour at 1700 degrees Fahrenheit
Great value for the price
7. HONEYWELL – 6108 Fire Resistant Steel Security Safe Box (no fire rating)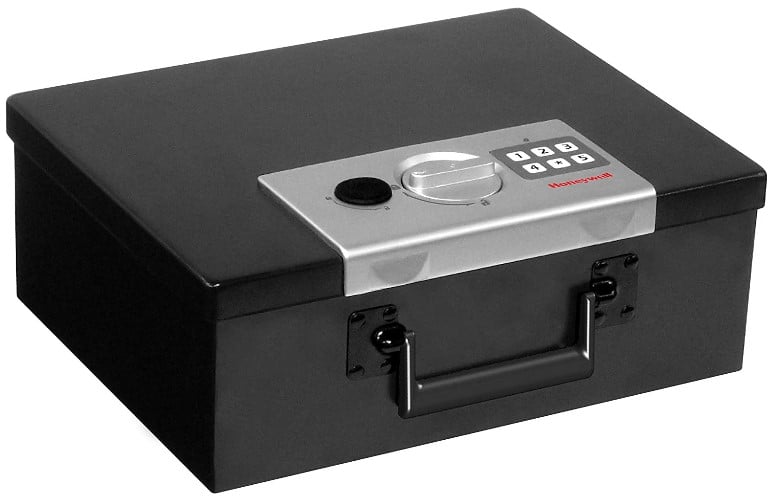 Not everyone needs, or even wants, a bulky safe to store all their valuables along with their firearms. Some people, including myself, often want just a small bedside or drawer safe that can store one or two handguns safely. For that type of requirement, the Honeywell 6108 Fire Resistant Safe Box is the perfect pickup.
Don't let its small size fool you. It is one of the most secure lockboxes you will find on the market. The gun safe features an all-metal construction along with concealed hinges to protect itself against all sorts of prying attempts. The double-coated steel wall also has a powder-coated finish to prevent any corrosion damage.
The top of the box features a small five-digit keypad that lets you set up a combination of digits that you can use to access the safe. You also get a separate button to engage or disengage the locking mechanism. So you can also use it as a storage box without using the electronic lock.
With such a small box, you, of course, want a bit of portability, right? Well, to tackle that issue, the manufacturers give you a small D-handle at the front that you can use to carry it with you anywhere. As a portable gun safe, it is unbeatable.
It is also fire-resistant to some extent, thanks to its thermal insulation on the inside. But keep in mind that it is not rated to survive extreme temperatures for too long. So you might want to take it with you when you are making a run for it in case a fire does break out.
But because of its lightweight design, running off with it is not an issue. While this may be of some concern when it comes to security, you can always bolt it down using mounting accessories.
The interior of the safe is pretty good for the size. You should be able to cramp together two handguns inside it without too much trouble. And since the interior is padded, you do not have to worry about damaging the finish of your firearms.
Apart from that, you can also store a couple of small key items such as your passports, cash, or even ammunition inside it. It is a small yet effective lockbox for your valuable. Sure, it might not hold up well against some of the other options on my list, but as a budget-friendly alternative, this is a great one.
Highlighted Features:
Compact and convenient design
Comes with a five-digit keypad
Comes with two emergency keys
Can store up to two handguns
8. Fortress Fireproof Executive Safe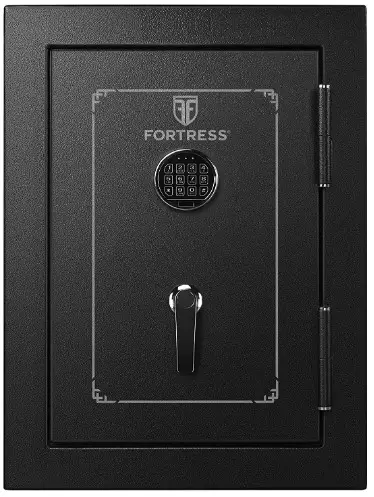 For my next pick, I decided to go with another Executive Safe by the brand Fortress. I don't usually go with two products from the same brand, but this time I decided to make an exception. And after reading what makes the 33E10 Fireproof Executive Safe special, you will have no reason to ask why I decided to include it.
Firstly, this option is cheaper than the last one that I reviewed. But despite its cheaper price tag, it does not compromise on the quality too much. In fact, if I am strictly talking about value, I might recommend going with this one over the other one I talked about previously.
It boasts a strong alloy steel construction along with six two-way locking bolts on the inside to ensure utmost security for your belongings. The design is fully tamperproof, which means there is no chance of a burglar breaking into the safe without you knowing about it.
The gun safe comes with an electronic keypad which you can use to access the safe if you do not want to fiddle around with the keys. If someone does try to break into the safe, the unit has an audible alarm system that comes in handy. You can easily take steps to protect yourself if you hear the alarm go off.
Its fire rating is fantastic, allowing it to handle up to 1400 degrees Fahrenheit for 90 minutes. In addition, the unit has a waterproof design and can survive for up to 72 hours when the water level gets up to 10 inches deep.
The only downside to this option is its somewhat limited storage space. It is still large enough to accommodate a couple of long guns, but it is not as big as the last Fortress product that I reviewed. However, the two interior shelves are removable, which gives you a bit more room to work with.
The carpeted interior of the gun safe is also a welcome addition to its already feature-heavy design. After storing up your valuables, I would recommend throwing in a couple of dehumidifiers to keep the interior moisture-free.
Highlighted Features:
Excellent build quality
Great value for the price
Audible alarm system in case of a break-in
Excellent levels of fire and water resistance
9. AEGIS Fireproof Rifle Gun Safe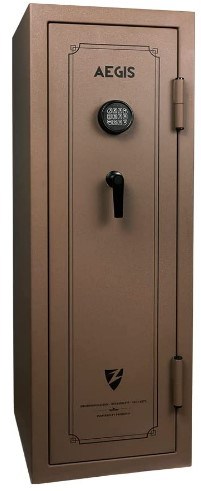 If you want the best fireproof long gun safe for the money, then look no further than this option by the brand AEGIS. It gives you a good balance of price and performance, making it one of my top picks when I do not want to go overboard on expenses.
Featuring a solid steel construction with reinforced walls, this gun safe is designed to take a beating like a champ. It has corrosion and stain-resistant powder coating to ensure it lasts you a long time. In addition, anti-pry bars and three deadbolts inside the gun safe protect it against any sort of tampering.
It also features seven active locking bolts for real-time protection and a drill-resistant hard plate that enhances the security of the door. As for its locking mechanism, you will get a digital keypad that allows you to quickly set up a secure access code to engage or disengage the lock.
This fireproof gun safe is rated to survive 45 minutes at temperatures of up to 1400 degrees Fahrenheit. In the event of a fire breaking out, the door seal expands to ensure your belongings inside will remain safe. It can actively keep fire and smoke out of the safe, thanks to this feature.
Another great thing about this gun safe is its massive interior space that can accommodate up to 22 long guns. The interior shelves are fully adjustable, giving you complete control of how you want to set them up inside. The inside of the door also comes with pouches to store small arms and ammunition.
Overall, this gun safe is a solid bang for your buck investment that will last you a long while. It comes with pre-drilled holes for secure mounting to the floor. Installation should not take you more than an hour, and once you set it up, you will never have to worry about the safety and security of your important belongings.
Highlighted Features:
Massive interior capacity
Amazing value for the money
Easy installation process
Impressive fire resistance capacity
10. SnapSafe Titan Large Digital Modular Gun Safe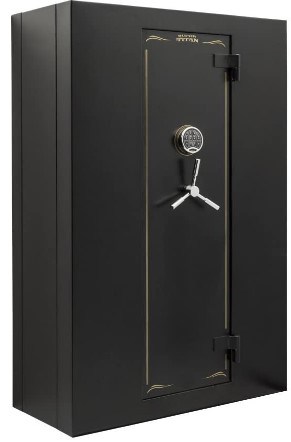 I always like to wrap up my reviews with a high-end, premium product only for true enthusiasts. And if you are not one for compromise, then the Titan Large Digital Modular Gun Safe by the brand SnapSafe is the perfect pick for you. Its only downside is its price.
This gun safe boasts a thick 9-gauge steel exterior walls featuring a powder-coated finish to ensure full protection against burglary or corrosion. It comes with eight 1-inch steel locking bolts along with a spring-loaded relocker mechanism and a non-breach sealed deadbolt door.
The unit makes use of a digital keypad as its primary locking mechanism. Don't worry; you will still get a set of backup keys to open up the safe if you forget to replace the battery. The electronic mechanism is also equipped with an alarm system that goes off if it detects any tampering.
But its true highlight is its impressive levels of fire resistance. It is rated for up to 2300 degrees Fahrenheit for 1 hour, making it one of the best fireproof gun safes on the market. Even if a fire does break out in your office or home, anything that you put inside the gun safe will be fully protected.
The interior design of the unit is quite pleasing, giving you an ample space to store all of your firearms and valuables. It can handle up to 24 firearms. You get a large full shelf at the top, a full gun rack, and two half shelves along with a half gun rack on the inside of the gun safe.
However, for the money, I would have liked a couple of door organizers inside the gun safe. Even though it is a bit disappointing, it is still a fantastic fireproof gun safe that will make sure your valuables and firearms are completely protected in the event of a fire.
Highlighted Features:
Massive interior space
Superb build quality
Fire rating of 1 hour at 2300 degrees Fahrenheit
Fully carpeted interior
Final Thoughts
Going with a high-end fireproof gun safe is always a brilliant idea even if you do not own a gun. These safes are designed to protect all your valuables whether it is cash, documents or sentimental keepsakes even if a fire breaks out in your home.
I hope my article on the best fireproof gun safe could leave you with a couple of great options to choose from. Good luck!
Larry, who is a family man and a gun enthusiast, enjoys keeping his collection in pristine condition. He also likes to take his kids shooting as often as possible.