6 Best AR 15 Cleaning Kit In 2022 – Experts Picked
For gun collectors and civilians worried about self-defense, the AR 15 is a popular choice of firearms. It is lightweight, semi-automatic, and has a decent ammo capacity making it a fun weapon to try out at the firing range. But like all firearms, without proper care and attention, it can start to act up.
I remember seeing a junk AR 15 at a friend's house, which had a completely rusted barrel. Now in that condition, firing that weapon can be a major safety risk. The bullet can even explode as it leaves the firearm, putting you in harm's way.
To prevent these things from happening, you need to clean your AR 15 from time to time. Now, cleaning a firearm is not an easy task. You need to know exactly what you are doing if you want to restore it to peak performance.
And not only that, but you also need to make sure you are equipped with the right tools for the job. With the best AR 15 cleaning kit, however, the task can become extremely easy. And my job here is to make sure you know which cleaning kits are worth buying to make your gun cleaning day go as smooth as possible.
| | | |
| --- | --- | --- |
| | | |
| | | |
| | | |
| | | |
| | 15.79 x 10.71 x 2.17 inches | |
| | | |
Top 6 Best AR-15 Cleaning Kit Reviews
Here is my short-picked list of the finest AR 15 cleaning kits available on the market.
1. GLORYFIRE Universal Gun Cleaning Kit Hunting Handgun Shot Gun Cleaning Kit for All Guns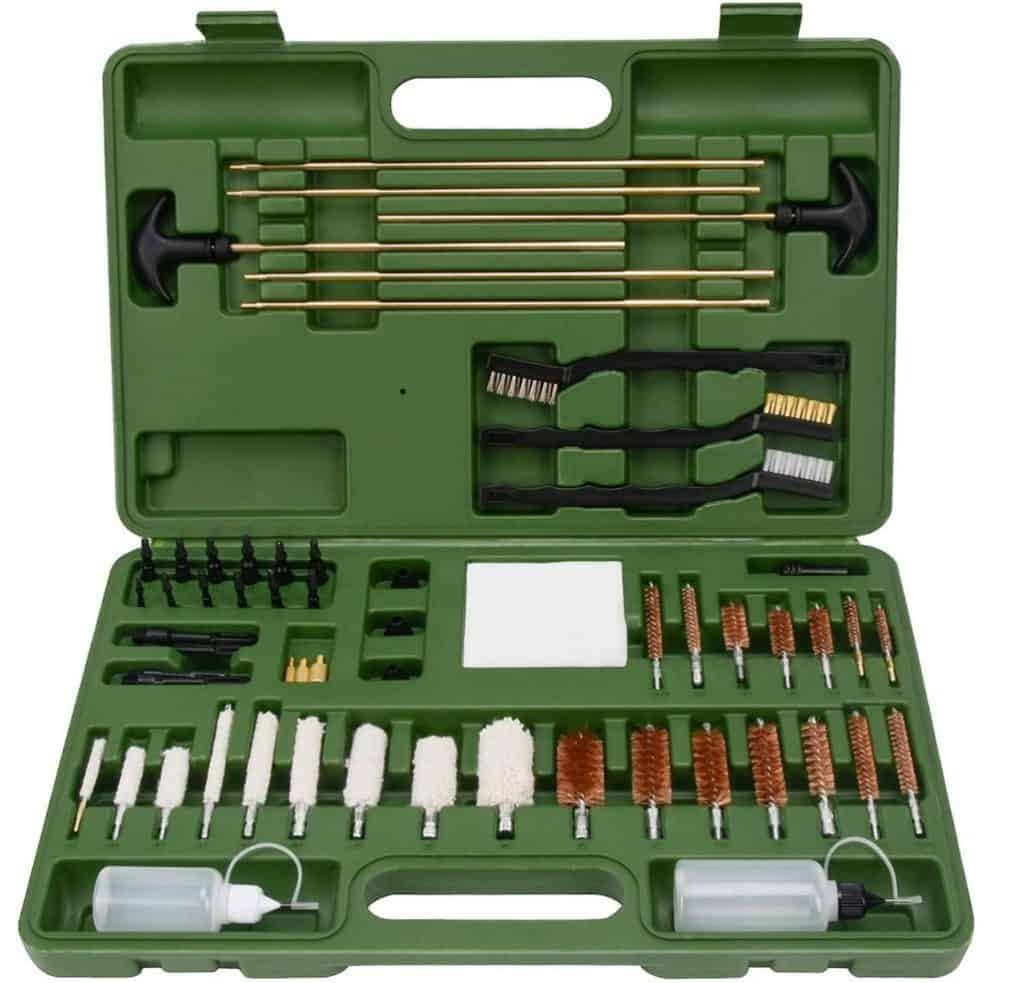 While this is supposed to be a list of the best cleaning kit for your AR 15s, I figured why not start with a kit that works for all guns. And that's when the name GLORYFIRE popped into my mind. When you are looking to care for a wide range of firearms, the Universal Gun Cleaning Kit by GLORYFIRE is hard to beat.
This "all-in-one" cleaning kit contains a total of 159 pieces that make caring for your gun a walk in the park. So, whether you have a AR 15, a .17 caliber rifle, or even a shotgun, you would be able to clean all the gunk and residue out of the barrel and other components without any issues.
For 17 to 270 caliber rifles, the cleaning kit gives you three solid brass rods while you get another three rods to clean your 30 caliber rifles and muzzle loaders. Other than that, there are 14 brushes, 12 spear-pointed jags, a black powder jag, some utility brushes, and muzzle guards, along with a handy set of other accessories to make gun cleaning almost effortless.
The quality of the components is also worth noting. While off-brand cleaning kits come with cheap plastic parts, GLORYFIRE made sure to use high-end nylon plastic to give you as much durability and performance as possible. So you will never have to worry about the parts breaking inside your barrel while cleaning.
This gun cleaning kit comes in a neat carrying case making it extremely portable. All the components have slotted space for keeping everything organized. On top of that, you also get two extra spaces to keep your gun oils and solvents.
Despite offering such a versatile cleaning performance, the price of this kit is surprisingly low. So, if you are on a budget and want to get a universal cleaning kit that kick-starts your gunsmithing career, this is one of the best ones to get.
Pros
Comes at an affordable price
Features a total of 159 pieces
Excellent portability thanks to the carrying case
Works with a wide variety of firearms
Cons
2. Pro .223/5.56 Cleaning Kit with Bore Chamber Brushes Cleaning Pick Kit by BOOSTEADY
Yes, the GLORYFIRE cleaning kit is a great choice if you need to clean a wide variety of firearms. But if your sole purpose is to cater to your AR 15, then that might be a bit of an overkill. In that case, I would suggest going with the Pro .223/5.56 Cleaning Kit by the brand BOOSTEADY.
As you might have already guessed from the name, this cleaning kit is equipped to handle both .223 calibers and 5.56 caliber firearms, which are the only two options you would have if you are using a AR 15. So, if that is the only gun you need to clean, this cleaning kit will serve perfectly well.
Naturally, the number of pieces is a bit lower in this kit compared to a larger universal cleaning kit. You get a total of three brushes; a brass brush, a chamber brush, and a double-end mini nylon brush. Other than that, you get some cleaning picks, cleaning patches, flex cable, patch holders, and a few handy accessories.
What it lacks in the number of accessories, it does make up for it by focusing on the quality of each of the components. Both the cleaning rod and cleaning pick feature metal construction. And the cleaning brush comes with a threaded end that you can secure to the cleaning rod for a more stable cleaning experience.
The product comes in a neat carrying pouch that allows you to keep everything organized. There are separate slots for each of the components, and when you are done cleaning, you can put everything back in its place so that you don't lose it. And the pouch also has zippers so that nothing falls off once you put it away.
For cleaning AR 15, this kit offers a fantastic experience at an affordable price. Sure, you might be able to find many other options at a lower price, especially when you are looking for gun-specific cleaning kits. But the quality of the components in this bundle is on another level of its own.
Pro
Excellent build quality
Perfect for cleaning AR 15s
Includes a carrying pouch
Extremely portable design
Cons
Not suitable for cleaning any other weapon
3. HOPPE'S No. 9 Deluxe Gun Cleaning Kit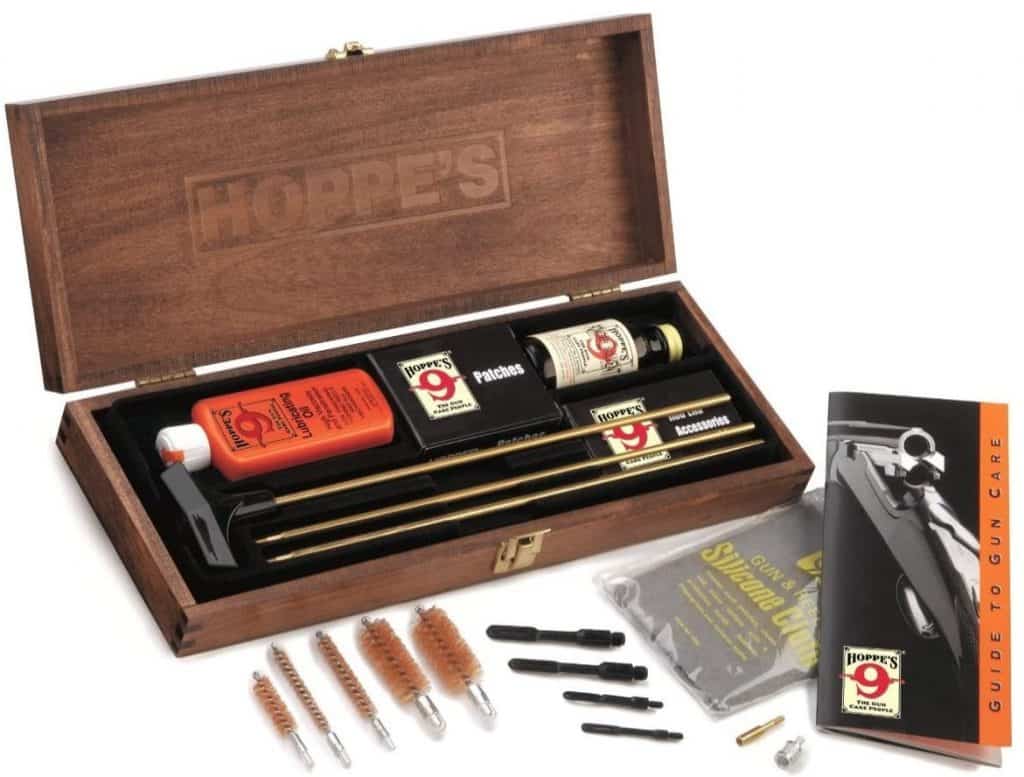 For many gunsmiths, myself included, cleaning a gun is an art. I rarely think of my trade as a profession but rather as a mode of artistic expression. And if you are like me and want to take your gun cleaning expertise to the next step, the No. 9 Deluxe Gun Cleaning Kit by Hoppe's might be exactly what you were looking for.
This is a universal cleaning kit meaning you will be able to clean not only your AR 15's but also a lot of other types of firearms. But the reason I decided to put it on this list is that it comes with a couple of stylish and high-performance accessories that make cleaning assault rifles a lot easier.
For example, the No. 9 Bore Cleaner that comes with the package is fantastic at cleaning gunk residue from the rifle's bore with high efficiency. You also get a three-piece brass rode along with a couple of phosphor bronze brushes and lubricating oil to make the cleaning job go as smooth as possible.
As for the build quality of the components, you will find nothing worth complaining about. Each of the included cleaning accessories is designed to perform and last a long time. For beginners, it also comes with a handy guide to get you started on the right track when it comes to gun care.
The presentation was another major focus of the brand when they were designing this cleaning kit, and you can see it clearly in the heavy-duty presentation box that it comes in. Yes, it does take away a bit from its portability, but if the style is something that you want, then this cleaning kit will not disappoint you.
Considering the number of components that it comes with; the price of the cleaning kit is a bit high. But if the presentation is worth anything to you, the price tag should not be too much of a factor here. And even if you are not buying it for yourself, this can serve well as a gift for your gunsmith friends.
Pros
Stylish design
Compatible with any type of firearms
Includes a handy guide
Durable components
Cons
4. Otis Technology Cleaning Kit 5.56/.223
If you liked the overall design of the BOOSTEADY Gun Cleaning Kit that I already reviewed, then you might also like this one by Otis Technology. This cleaning kit is an excellent choice if you only want to clean an AR 15 rifle at your leisure but you want to make sure the cleaning job goes perfectly.
Then again, if you want to use it to clean other firearms, I will stop you right here, as this one is not for you. All the components that it comes with are included with the sole intention of cleaning your assault rifles. Sure, you might be able to use a couple of these components elsewhere, but I would not advise it.
This cleaning kit comes with only ten pieces of accessories, which to some might be disappointing. However, most veteran gunsmiths will agree with me when I say this – it is not the number of components that counts, but rather the quality of the components that you get.
And quality is a given with this package. All of the brushes and rods are made with precision to ensure peak performance for a long while. You also get an 8-inch and a 30-inch memory-flex cable to make sure you can clean from the breach to the muzzle of your rifle without any issues.
The pouch design of this cleaning kit, along with small slots for all the brass rods, and lubricating oil makes it a fantastic addition to any gun owner's arsenal. Its small design allows you to simply put it in your pocket when you head to the gun range. That way, you can get some cleaning done after firing a couple of rounds.
This high-quality gun cleaning kit can be yours at a pretty reasonable price, considering the performance that it offers. Is it the most affordable option out there? Definitely not. But as a AR 15 specific cleaning kit, its price, performance, and durability are certainly worth admiring.
Pros
The quality of the pouch is excellent
Includes two memory flex cables for better cleaning
Compact and portable design
AR 15 specific cleaning kit
Cons
Comes with only ten pieces of components
5. GuardTech Plus Universal Gun Cleaning Kit for Guns
Weapon-specific cleaning kits are the best if you want to focus on a single type of firearm. But if you want to kickstart your career as a gunsmith, they are not exactly a good investment. Since you need a lot of components if you plan on cleaning different firearms, going with a universal kit is better in that situation.
And if you are going with a universal kit, why not give the GuardTech Plus Universal Gun Cleaning Kit a shot? It is quite similar in design to the GLORYFIRE Kit that I reviewed before but has a couple of better components that are worth a look.
This cleaning kit comes with brushes that can clean from .17 caliber firearms all the way up to 12- or 20-gauges shotguns. In addition, you also get a lot of brass jags for up to .50 caliber firearms. The cotton mops are made of 100 percent cotton, and you get a pretty nice set to clean just about any weapons out there.
On top of giving you a complete set of cleaning components, the manufacturers also made sure that the accessories will last a good long while. The build quality of the brass rods and the threaded tips is quite admirable. So, this one investment should not require replacing any time soon. Just get a nice gun cleaning pad and you are all set.
In addition, this cleaning kit comes in a plastic carrying case which has individual slots for each of the components. This will help you keep things organized and ensure you do not lose any of the pieces. Personally, having lost countless cleaning supplies in the past, this is a great addition to this bundle.
Now for the price, it does cost a bit more than the GLORYFIRE universal cleaning kit, but if you were to compare them in terms of quality, this one edges ahead just a bit. Either of these cleaning kits can be a great addition to your inventory, but for serious gunsmiths, I would recommend going with the GuardTech Plus.
Pros
Suitable for expert gunsmiths
Can clean any type of firearm
Comes with a plastic carrying case
Durable build quality
Cons
6. Real Avid Universal Gun Cleaning Kit
I wanted to wrap things up with another universal gun cleaning kit, but I did not want to go with another large briefcase-style unit. They might be efficient for gunsmiths, but they are not exactly as portable as the Otis or BOOTSTEADY cleaning kit that I reviewed already.
Well, that is when I thought of the Real Avid Universal Gun Cleaning Kit, which is the perfect pickup if you are on a budget, want to work on the fly, and wanted to clean a wide variety of firearms. For such a compact bundle, this cleaning kit is surprisingly thorough.
The multi-caliber design of this gun cleaning kit equips you with enough components to clean a wide variety of firearms. Apart from working on .22 caliber, .270 caliber, or .30 caliber rifles, you can also work on 12- and 20-gauges shotguns with the included bronze brushes, bore jags, and cleaning patches.
In addition to providing you with a wide variety of cleaning tools, the manufacturer also made sure that you can get good use out of it. The build quality of the pieces is superb, and you should not have to worry about the brushes breaking off inside the barrel when you are cleaning out the chamber.
What surprised me the most about this bundle is how convenient and portable it is. All of the components are packed in a small, zippered pouch with notches for each of the pieces. So, you can keep things organized while being able to move around when you are on the job.
The price of the unit is also quite low, making it a great choice for first-timers. Sure, you will not be able to work with every gun out there, despite its universal name, but it does give you the option to clean most of the popular gun calibers. And once you have the experience, you can pick up a larger cleaning kit.
Pros
Superb build quality
Great value for the price
Compact and portable design
Perfect for beginners
Cons
Not suitable for every weapon types
Things to Consider When Buying the Best AR15 Cleaning Kit
If you love your automatic rifles, you want to make sure they stay in top-notch condition. Everybody loves a clean and spotless gun.
Not only does it look nice, but it also ensures that your weapon will not cause any issues when you want to take it out on the shooting range.
But keeping an AR 15 clean and functional is not easy, especially if you do not have a gun cleaning kit. When you are working with the best AR 15 cleaning kit, however, this gruesome task becomes somewhat easy.
And with our help finding the best cleaning kit in your budget and skillset will not be very difficult. Now that you have gone through our list of products, you should have a decent idea of which products are worth considering.
But you are not out of the woods yet. Not every product or kit is suitable for everyone. And you need to understand which specific bundle will give you the best value. To that end, here are a few things that you should consider when buying the best AR-15 cleaning kits.
Why Should I Buy An AR Cleaning Kit?
If you use automatic rifles, you need to keep it clean in order to ensure that it stays in working order. For that, you must have a cleaning kit. However, many people battle with the question of whether to buy a complete kit instead of buying individual pieces.
Well, whether you buy a complete kit or individual pieces, you need to have all the cleaning tools ready when you take on your gun's maintenance job. With a gun cleaning kit, you can get all the essential tools neatly packed and bundled, so it is typically a hassle-free process.
On the other hand, if you want to buy individual pieces, you need to go out and search for each of the components. It requires a lot more research and legwork to gather all of the components. Furthermore, buying individual components is also a lot pricier than buying a complete set.
Additionally, buying each item separately is not easy for a beginner. If you are just starting out with gun maintenance, naturally, you would not have a lot of experience when it comes to the tools. There is a chance that you end up with low-quality tools, especially when you are trying to save a few bucks here and there.
With a complete cleaning kit, you can get started right away when you get your product. It is an efficient way to start up your career as a professional gunsmith. Since you get all the essentials conveniently packed in a bundle, you do not need to wait for other items to get started with the maintenance task.
However, there are a few drawbacks when you buy a complete kit. For instance, you do not have the freedom to customize what you get in the bundle. When you buy a kit, you buy all the elements that come with it. You do not get the choice of modifying what comes with your bundle.
But that is not much of an issue for most people as you can simply buy the part you want from the market individually. If you are starting out your collection of cleaning supplies, a complete kit might be a better option. It gives you a lot of tools at a fraction of a cost of what you would pay if you bought them individually.
Number And Quality Of Components
First of all, you need to look at the total number of components that you get from your cleaning kit. It needs to pack all the essential cleaning supplies such as your bore and chamber cleaning tools, angled brushes, or solid brass rods to clean the muzzle. After investing in a gun kit, you should not have to buy any essential items separately.
Furthermore, you need to check the quality of each of the components to ensure that you can get durable and consistent use out of them. Some cheaper gun cleaning kit skimps out on a few components, which ends up costing you more to get it replaced. You should always be prepared against such incidents.
Skill Level
If you have spent anytime searching for the product, you will already know how many different kits are out there in the market. A beginner might not benefit from a fully stocked cleaning kit as he would hardly have the knowledge to use all the tools. On the other hand, an entry-level kit would not be suitable when you are a professional.
You need to compare your skillset with the available components and need to determine which one is worth buying for you. To get the best value, try to find a unit that comes with all the units that you can use. Later on, when you gather a bit more knowledge of the tools, you can invest in a more sophisticated set.
Kit Portability
If you frequently do field maintenance of the guns for yourself, your friends, or customers, you want a portable kit. Limiting yourself to the workshop might not be an option for you in this case. So, buying a bigger and bulkier kit with a lot of supplies is no longer ideal even when you are a professional.
In this situation, you would highly benefit from a smaller kit. There are many lightweight kits on the market that even include brass rods that can be split up into sections for convenience. With these units, you can simply put the bag in your pocket and take it with you when you go out to the shooting range.
Budget Constraints
Lastly, you also need to consider the price of the cleaning kit. The best thing about complete cleaning kits for AR 15 is that they are available in a wide range of prices. So, if you have a fixed budget in mind, you will surely find something that is suitable for you almost all the time.
When it comes to cleaning kits, affordable does not mean low-quality. When you are on a tight budget, make sure you consider all the other factors we mentioned before to ensure you get the best value out of your purchase. If you shop smart, you will never have to exceed your price range.
How Frequently Do I Need To Clean My AR 15?
How frequently you clean your AR 15 depends on your usage. Ideally, you should always clean your gun after you shoot a few rounds with it. This way, the performance of your weapon will remain unaltered no matter how you use it.
However, finding the time for regular cleaning can be difficult for some people. If you have a tight schedule, you should clean your AR 15 after using it twice in the shooting range.
You should also avoid using ammunition that contains salt as the residue can wreck the health and condition of the gun. Also, keep an eye out for ammo residue left inside the gun. If it builds up too much, you will have a difficult time cleaning it.
In addition, your environment also contributes to how frequently you need to clean the weapon. If you live in a salty area such as near a beach, you need to clean it more often. Windy environments can cause dust and sand particles to accumulate inside the gun over time.
Why Do I Need To Clean My AR 15?
Using a gun without maintaining it properly can cause severe issues. It not only harms the gun itself but can also cause accidents in extreme cases.
For instance, without maintenance, your gun will rust faster. As you know, rust is a common enemy of any firearms. Apart from the cosmetic issues, it can also damage the metal components in the AR 15, leading to cracks.
It also makes the weapon unstable. For example, a rusty weapon might not be able to cope with the pressure created when shooting it. Although it is an extreme example, it can happen if you keep using rusty firearms without fixing it.
Additionally, the ammunition residue inside the barrel of the gun can inversely affect its accuracy. It can lead to misfire which, as you know, can be dangerous for both you and the weapon.
If you are using copper rounds, then you need to be extra careful in its maintenance. Copper particles left behind by this type of ammunition can slow down the bullet and change up its trajectory.
Note From The Author:
A gun cleaning kit is a must have for any shooter. It will be used to clean the gun after every use and prevent it from getting jammed or damaged.
These cleaning kits are not all the same, so it is important to know what is included in them before purchasing one. The most basic kits come with a rod, brushes, patches and some oil.
More advanced kits come with more tools such as a chamber brush, cotton swabs and more oil. The quality of the materials that are included in the kit can vary greatly depending on where you purchase it from.
Some will include brass rods and bronze brushes while others may just have steel rods and nylon brushes. Just makes sure the kit includes all the necessary tools for maintaining your firearm in perfect condition, and you'll need it to clean your rifle or pistol afterward.
The importance of maintaining and caring for your gun cannot be stressed enough. Whether you are using an AR 15 or any other type of firearm, you must clean it regularly if you expect it to give you good results. Sure, it takes some time to get rid of all the dirt and grime, but the end result is almost always worth the hassle.
Final Thoughts
If you want your weapons to function properly, you must remember to clean them. AR 15 rifles are fantastic weapons, but without care and cleaning from time to time, they can malfunction or misfire.
I hope my review of the best AR 15 cleaning kits could help you figure out the perfect investment for your weapon to keep firing perfectly.
Larry, who is a family man and a gun enthusiast, enjoys keeping his collection in pristine condition. He also likes to take his kids shooting as often as possible.